3D Printer
WHAT IS 3D PRINTING?
3D Printing is the amazing process of producing a three-dimensional, solid object of virtually any shape from a digital model, or blueprint, that has been designed using special 3D modelling software on a computer. The 3D printer reads the design files and, using an 'additive' process, prints thin layers of a material such as PLA, ABS, wood derivative or metal in a particular sequence. The layers of material cool quickly and fuse together to create the final physical 3D object.
V-3D Printer
V-PLA 3D helps in creating the world of infinite possibilities by converting the computer design to real life tailored made objects e.g. (Cell phone covers, accessories, jewellery, Wallet, Headphones, Speakers, DJ Desk, Interior Designed models, Toys, Eye wear, Coffee cups, Clock, Hanging Lights, Camera Lens, Flute, Acou Guitar, High heel shoes, Gears, Medical models, Architecture models, Engineering models, Sculptures and much more to check out on our website). These objects have an aesthetic value, can be felt and used instantly.
Machine Specifications:
Print size ( X Y Z )
The Layer Thickness
Layer Resolution
Chasis
Printing Filament
Filament Diameter
Nozzle Diameter
Machine Dimensions
Shipping box dimensions
Machine weight
Shipping box weight
Maximum Print speed
Recommended Print speed
Print Plate Size
Print Plate (Build Platform)
AC Input
No.of Extruders
Power Requirements
Connectivity (Interface)
Electronics
Operational Environment
3D printing Software
CAD Input data supported
Client Operating System
Print in dual color
Print in multi color/material
Warranty

:
:
:
:
:
:
:
:
:
:
:
:
:
:
:
:
:
:
:
:
:
:
:
:
:
:
:

190mm x 190mm x 210mm
0.1mm to 0.2mm
100 microns to 200 microns
Aluminium and ABS
PLA
2.85mm
0.4mm (J-Head Mk V-BV)
460 mm x 430 mm x 430mm
650 mm x 530 mm x 520 mm
13kg
15 kg
150 mm/s
70 mm/s
250 x 277 mm
Glass with 3M Masking Tape
100-240 Volts , 50-60 Hz
1
19 volts , 6.23 Amp
Usb, SD card
Arduino 2560 sheild with LCD & SD Card holder
15-32 degree celcius
Printware
.Stl, .obj
Windows, Linux, Mac
No
Upgradable to J-paste extruder
One year - Limited Warranty
Samples
DESKTOP 3D Printer
The Desktop 3D Printer is a full-featured desktop 3D printer for daredevils and experimenters to explore the frontiers of 3D printing. Optimized for the traditional thermoplastic ABS filament, the printer is prepared for future developments in 3D printing.

3D printing is a way of making three-dimensional solid objects of practically any shape from a digital model. The technology, which is also known as "additive manufacturing," could have applications in a wide range of industries including Defense, Aerospace, Automotive and Metals manufacturing
Specifications
Printing Material
Layer Thickness
Print Speed
Print Size
Printer Weight
Gross weight
Printer Size
ABS or PLA Plastic
: 0.1mm – 0.3mm
: 40mm/s
: 200 x 200 x 200 mm
: 18 kgs
: 20 kgs
: 410 x 400 x 415 mm

With LCD display, control pad and SD card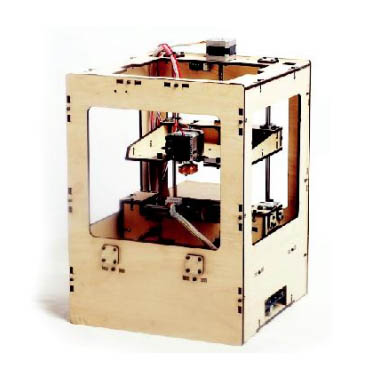 Electrical and software parameters
Operating Voltage
Model Support
Input format
Workstation
Interface

240v @6.25 Amps
Auto- generated support
STL
Windows XP/Vista/Win7; Mac
USB to PC/Mac/Linux